Year SIX! Six years in a row!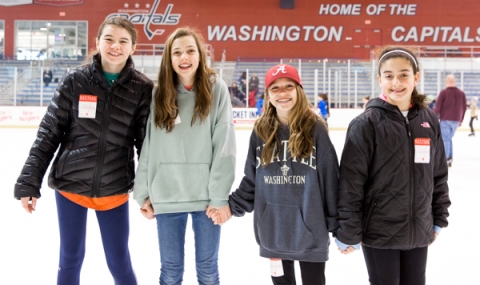 The Catherine Elizabeth Blair Memorial Fund is a local non-profit that is near and dear to my heart. Their mission is dedicated to raising funds for developing treatments for the childhood cancer neuroblastoma. Catherine was a patient at the pediatric cancer clinic where I worked – she was a great kid and her family is amazing.
The foundation held its first "Skate for Catherine!" event on March 1st, 2012 at Kettler Capitals Iceplex in Arlington, Virginia (blog entry here) and I have been honored to cover their event and offer a session package for their raffle, pro bono, every March.
This year's event raised over $19,000! The foundation has donated over $140K in research grants so far and this will help keep that very important research going. Even though this year's event has passed, you can still donate to the foundation by clicking here.
Images were captured with my Canon 5D III  paired with either a 24-70 f/2.8LII or a 70-200 f/2.8LII.
https://www.facebook.com/media/set/?set=a.10154708054237639.1073741838.188460872638&type=1&l=b09eec83a2