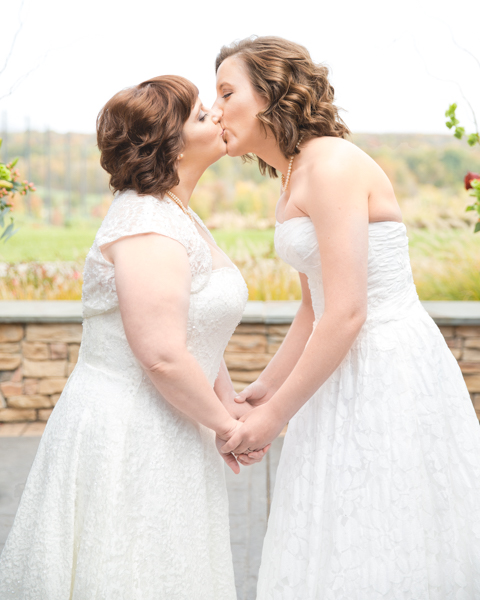 Ally and Abby are two awesome nurses who invited me to be their wedding photographer. Same-sex marriage was legalized in Virginia only earlier this year but I'm glad that progress is being made. I was super stoked to have been considered and the more planning they did, more more excited we all became.








 Their ceremony and reception were held at Lansdowne Resort in Leesburg, Virginia. It was a cool, breezy autumn day that was perfect for an outdoor wedding.




















The reception area was a well lit ballroom that had a mix of natural and artificial light, which was great in person but in terms of photography, made it interesting. Sunlight and artificial light sources have different color temperatures that have to be accounted for – usually by adding a gelled flash that evens the color as much as possible. I'm really glad it worked out here, as they looked great!
FYI – same-sex wedding photography is pretty much exactly the same as photography for non-same-sex weddings! The only difference is in posing for formals, but it always works out. 🙂 Everyone is happy and two people who are in love get to say their vows in front of friends and family. That's what matters.






















































Congratulations, Abby + Ally! <3
Kudos to all of the vendors who helped out on their special day!
Ceremony + Reception – Lansdowne Resort
DJ – Brian George Music
Florist – Gathered Stems
Images were captured with my Canon 5D III  paired with either a 24-70 f/2.8LII or a 70-200 f/2.8LII. Natural light and flash were used.